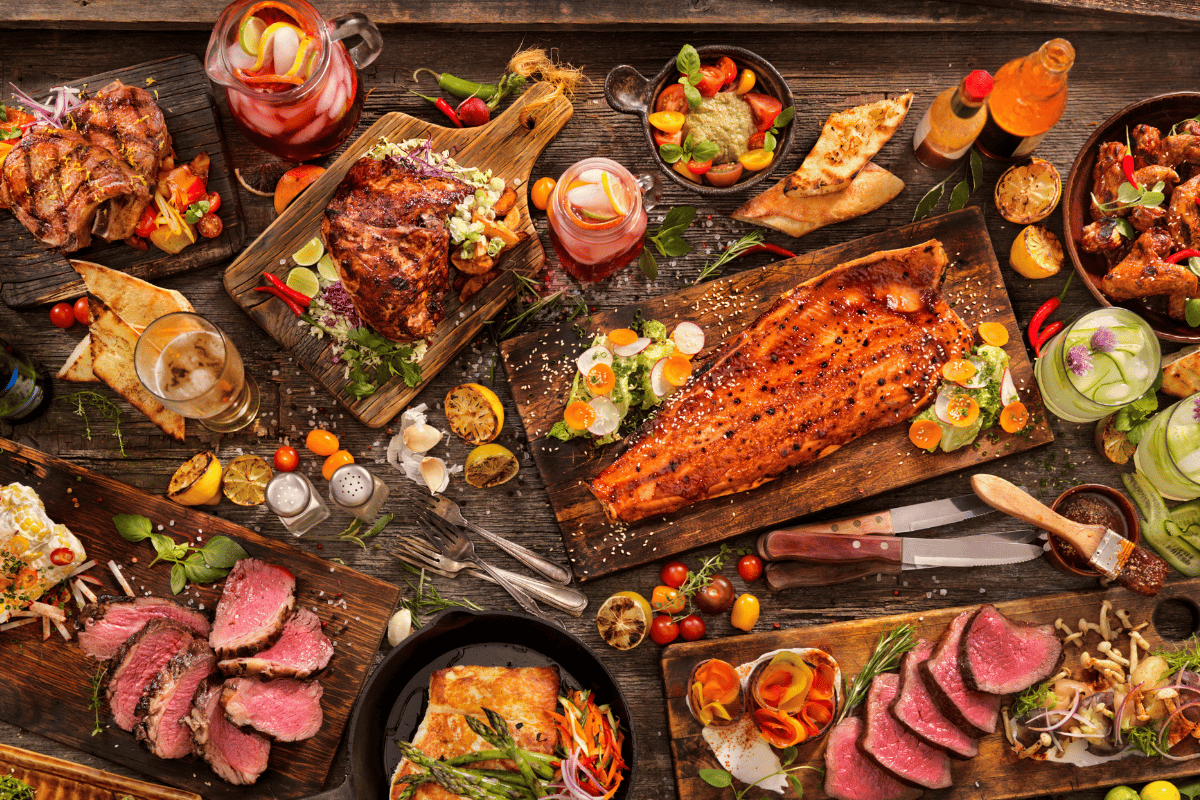 Holidays and BBQ: Special Menus for Celebratory Feasts
Holidays and BBQ: Special Menus for Celebratory Feasts
At Porky's BBQ, we believe every occasion is worth celebrating, and what better way to do so than with a mouthwatering BBQ feast? As the holiday season approaches, we're excited to reveal our specially curated menu designed to take the cooking off your plate so you can spend more time with loved ones! So, make this Holiday Season one to remember with Porky's and everything BBQ!
A Thanksgiving Feast to be Thankful For
Thanksgiving is a time for gratitude and indulgence, but more importantly, it's a time to give thanks for all the blessings in our lives. That's why we created a special Holiday catering menu so you can celebrate easily and focus on all the blessings in your life while we care for the rest! Our Thanksgiving BBQ feast includes all the traditional favorites with a smoky twist. You can savor tender smoked turkey, succulent brisket, and flavorful sides, all expertly prepared and seasoned to perfection!
Christmas Cheer with a BBQ Flair
Celebrate this Christmas with a unique twist that will have your guests wanting more with our BBQ Christmas feast! Our Holiday BBQ catering menu features a variety of smoked meats, including smoked turkey and slow-smoked brisket that'll melt in your mouth for those who can't get enough!
New Year, New Flavors
Say goodbye to this year and welcome the new one with a BBQ bash! Our New Year's Eve menu features everything you need to bring in 2024 with a zing! From our famous ribs to our favorite in-house smoked meats and sides made from scratch, it is the ideal choice if you want to ring in the New Year with succulent tastes! So, toast to new beginnings with our smoky flavors that will have you and your guests craving more into the New Year!
Valentine's Day for BBQ Lovers
Why not avoid the usual candlelit dinner for Valentine's Day and opt for a unique experience at Porky's BBQ? Whether you're celebrating with your significant other or planning a delightful gathering with friends, our BBQ catering services will treat your taste buds and your loved ones to a delectable feast of smoky, succulent greatness prepared by our expert pitmasters! We created a perfect menu that will rekindle the flames of love over BBQ!
At Porky's BBQ, we want to make every Holiday as memorable as possible for you and your loved ones! We know how hectic the holiday season can be, especially when hosting Holiday festivities, but we also know that it doesn't necessarily have to be. Our expertly smoked meats and perfectly paired drink specials will not only add a delicious twist to your holiday celebrations but one that you can enjoy while we take care of the rest!
So, tis the season to experience all the joy the Holidays can bring, and let's enjoy it together from our family to yours with our BBQ catering services in Arlington Heights!